Support CAFI's Big pop-up event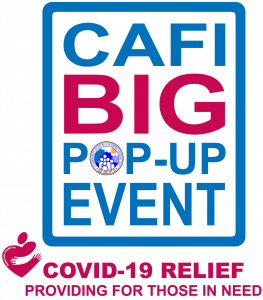 May 22nd 10 am – 2 pm
Drive-thru event at the Troup County office, 1380 LaFayette Parkway
Masks for the whole family
dIAPERS AND INFANT supplies
May is National Community Action Month, a celebration of the achievements of Community Action Agencies across the country! This year in May, we are hosting a relief event for families to combat the COVID19 pandemic. We're calling it a Big Pop-Up Event.

Our plan is to serve at least

500 families in need

. We will distribute all donated items to families who need them.

We'd like to distribute food, PPEs, cleaning supplies, including laundry detergent, diapers, wipes, blankets, items for senior citizens, energy saving items and more. 
Please help. We need our community to join the relief efforts. We are asking that you make a special Community Action Month gift of at least $25 or donate the items above (new items only please). Your generosity will allow us to continue to change people's lives in Carroll, Coweta, Heard, Meriwether, and Troup counties. 
We very much appreciate your generous contribution!
We need your help to reach our goal of providing 500 local families in need with relief. Please donate below!
If you would like to donate items or cash, please contact your local neighborhood service center or Head Start school.