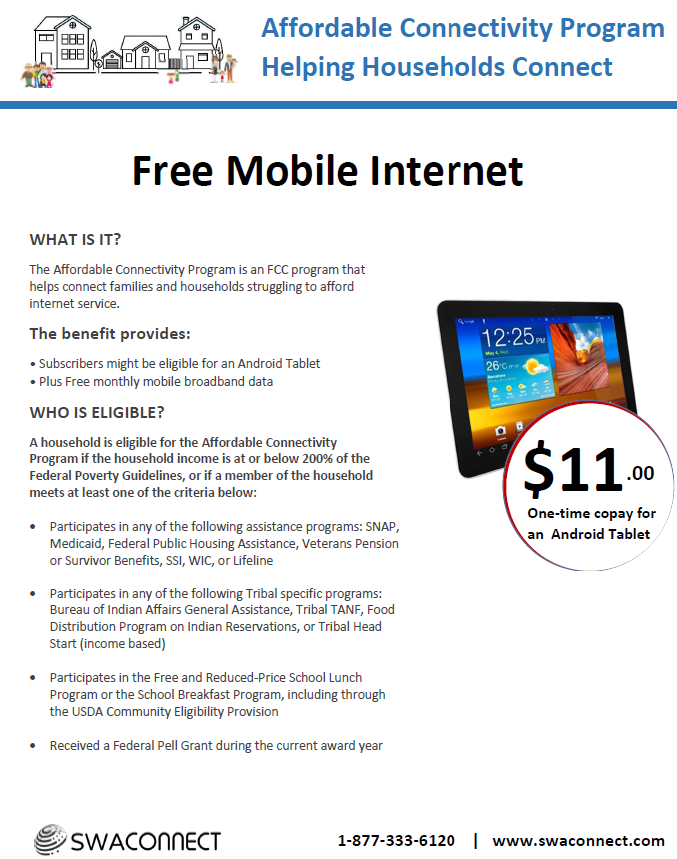 Hispanic Heritage Month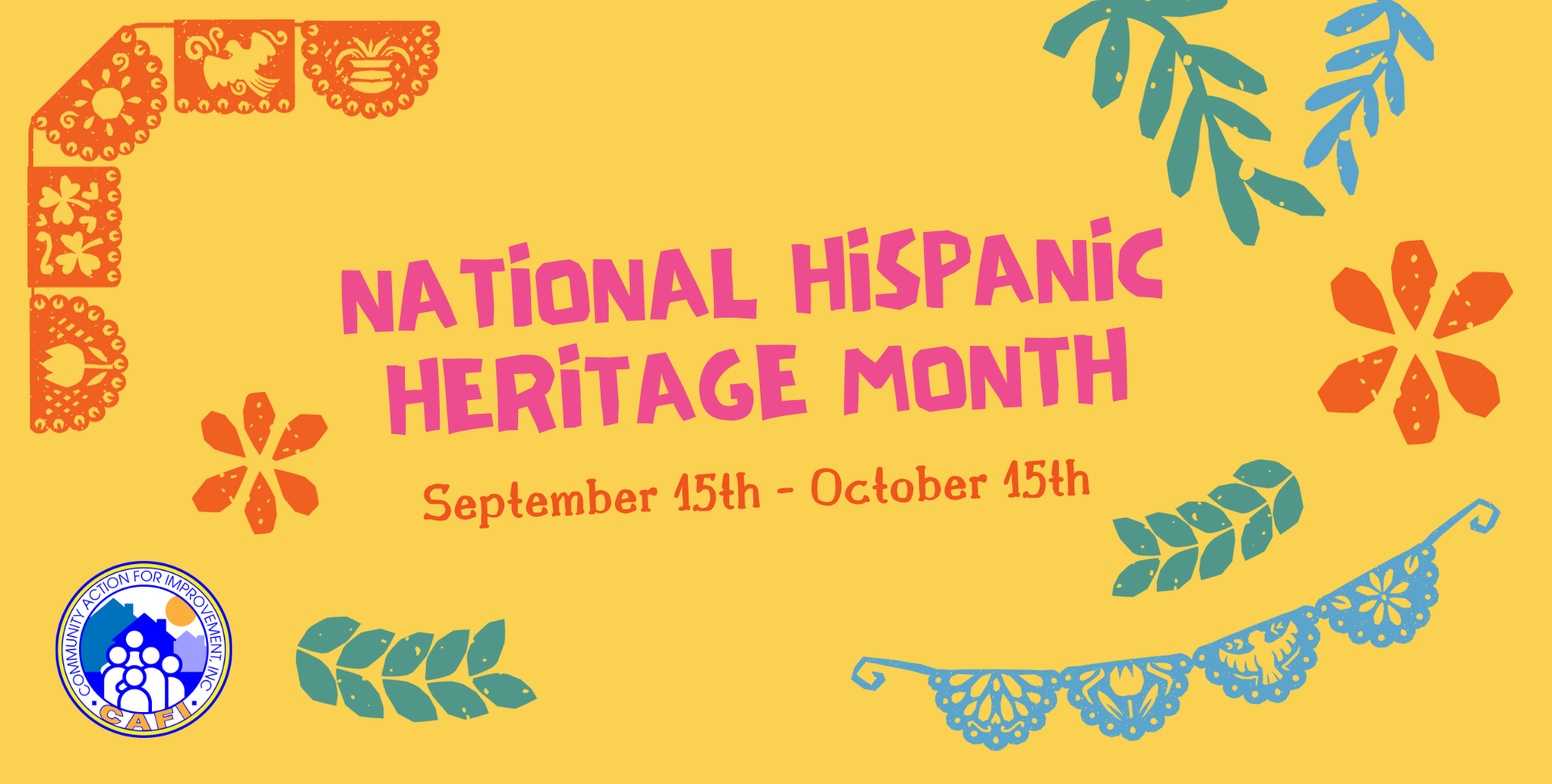 Closed Indigenous People's Day
All CAFI offices will be closed on Monday, October 9th, in observance of Indigenous People's Day
LIHEAP Winter 2023
Appointments will be available for senior households (65 & older) and the medically homebound starting December 1st.
All other households are eligible to apply January 2nd.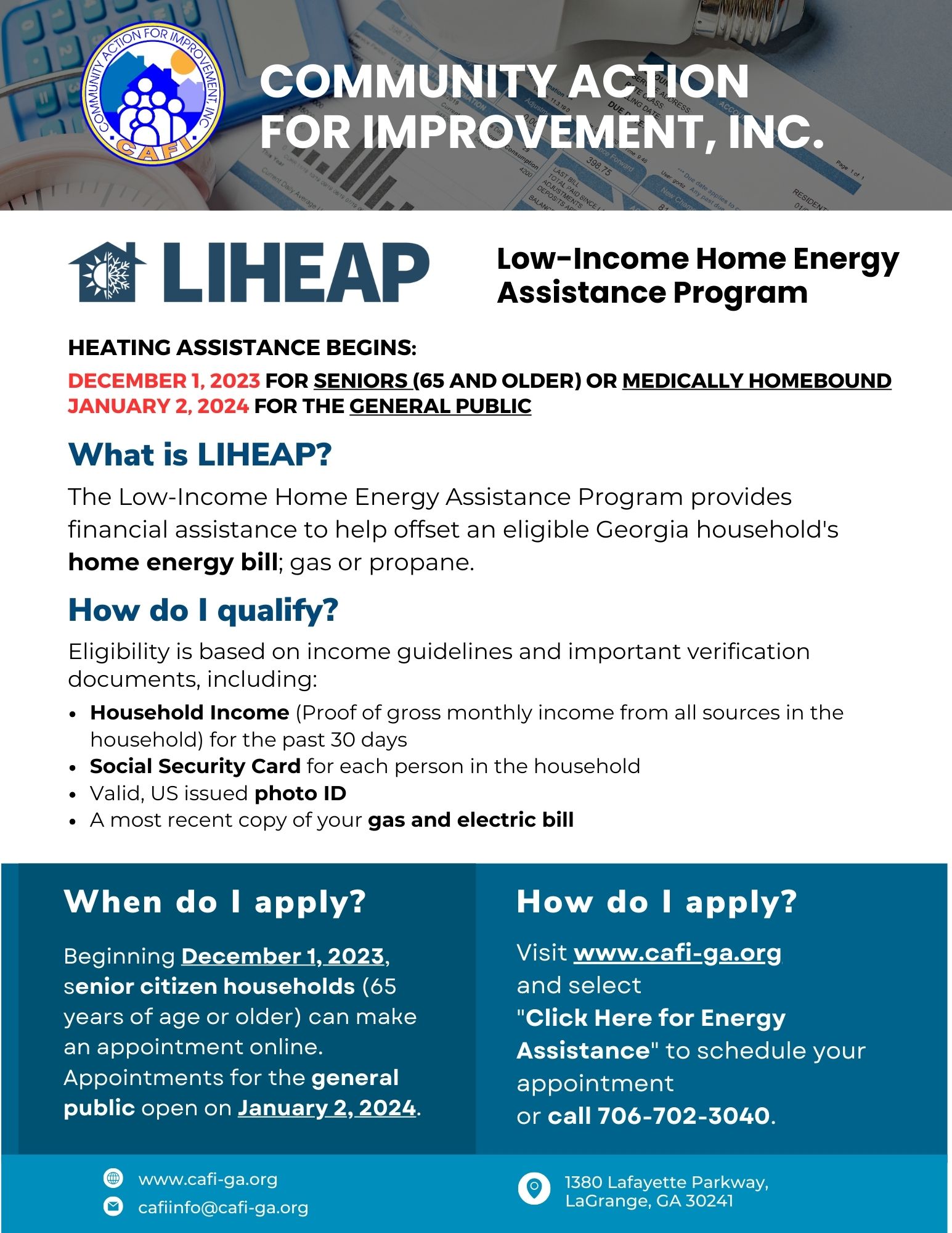 Head Start Safety Superhero
Head Start Safety Superhero
This month, we would like to recognize Ms. Jessica Hill from our Carrollton Head Start center! She received the Safety Superhero award.


Thank you for working hard to ensure that our Head Start children are safe!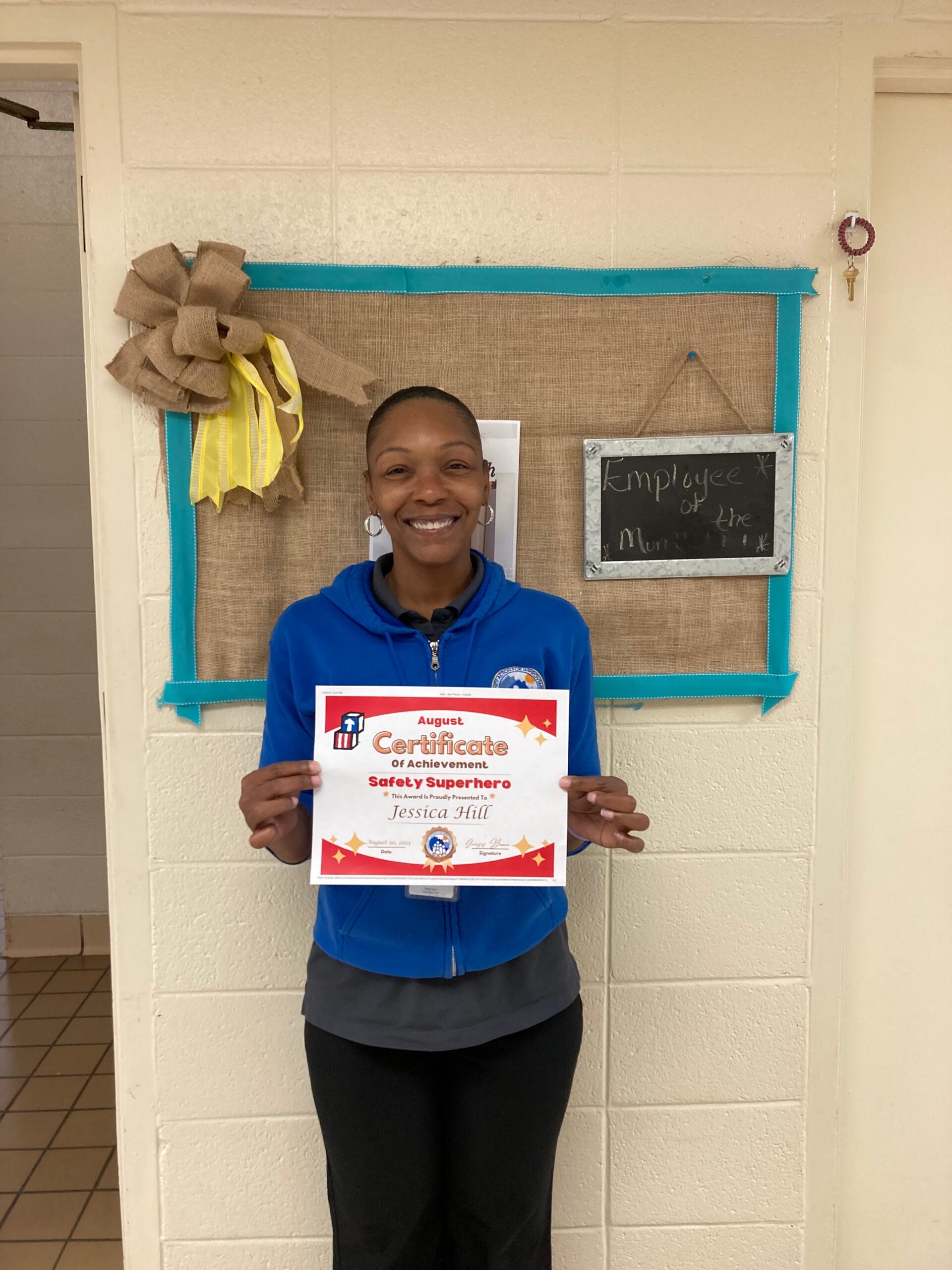 Head Start Enrollment
Looking for free early childhood education?
Now serving Carroll and Coweta counties.


Children ages six weeks to five years of age, including children with special needs and disabilities, are eligible.

Email: headstart@cafi-ga.org
Phone: 706-806-9006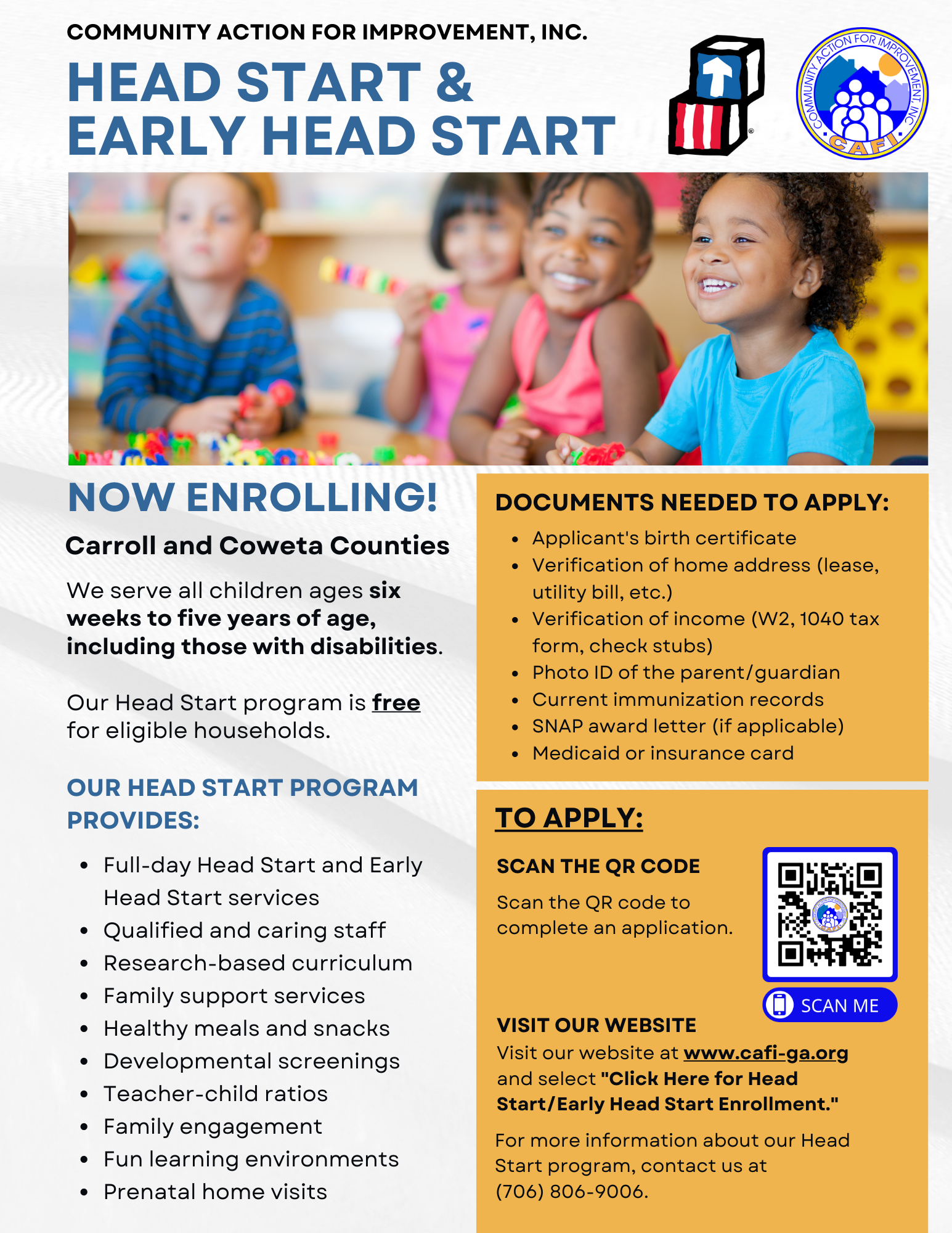 3-Part Credit Crash Course
3-Part Credit Crash Course
Let us help you prepare for homeownership!
Now hosting classes in Newnan and Carrollton.


This 3-part course will teach you how to understand your credit score, raise your score, and use credit effectively.

Have questions?
Contact Kat Conley at 706-616-8101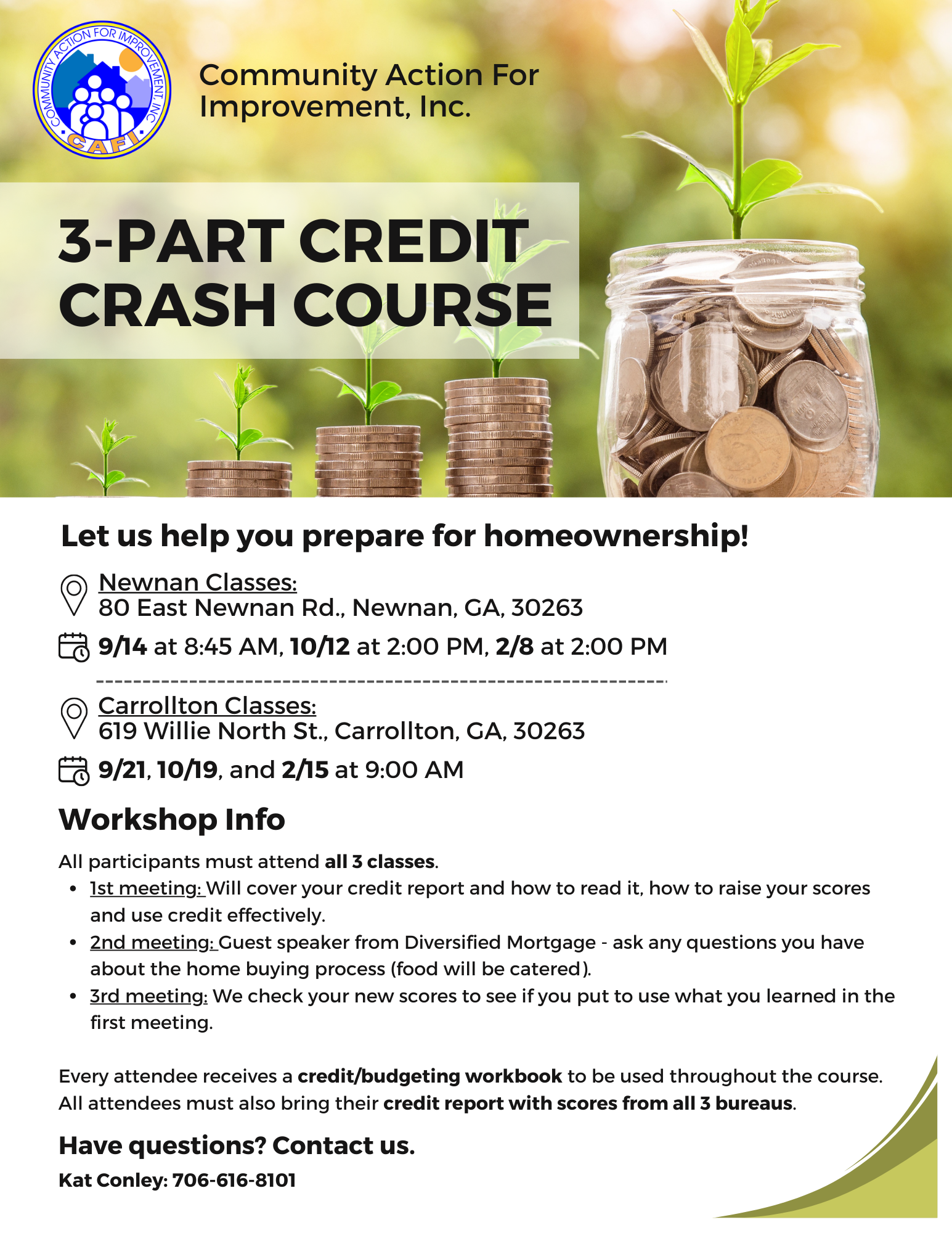 Community Action For Improvement
Started in 1966, Community Action for Improvement, Inc. (CAFI) has been serving Georgia residents in Carroll, Coweta, Heard, Meriwether, and Troup Counties for over 50 years. With a mission to assist low-income families and individuals in achieving self-sufficiency and self-empowerment through the delivery of high-quality social services, CAFI has provided Home Weatherization, Early Childhood Education (Early Head Start and Head Start), utility and/or energy bill assistance, and Housing Stability Program to thousands of Georgia residents seeking a hand-up, not a hand-out. Today, Community Action For Improvement (CAFI) operates 5 neighborhood service centers in the community and has expanded its programs to include employment readiness, Veteran's services, couple relationship education, and water bill assistance.
Members Served (2020-2021)
Home Weatherization (2021-2022)
CAFI has provided services for over 25 years to low-income persons in five-county service area including Carroll, Coweta, Heard, Meriweather, and Troup counties.
Sign up today to receive updates about CAFI and more! Don't miss out.